by Philo Ikonya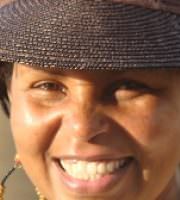 Mu Suchua:
if they take you to prison;
when you step in prison,
because you spoke your truth, to them;
and it was bitter than gall;
if they open the prison door'
and turn the key, and you remain in,
remember this, Mu Suchua,
they have not locked your power.
You have it in your heart.
Locked in your peace, a hair-lock
always around your warm chest.
And all over the world,
your souls are ours,
for your love for Cambodia,
sing freedom, let us sing!
In your love for Cambodia,
We love you Mu Suchua,
you who stares like a lion at the face of evil,
speaks clearly, like faith in the face of power,
speaking clearly to power, speaking truth to evil,
frightening them till their hearts and tails recoil,
and you bringing love; to women who keep dancing!
In your love for Cambodia, We thank you Mu Suchua.
With tears in our eyes, Mo Suchua, but never mind our tears,
they were never fears!
We the women of the world, who stand up for all children,
we the women with a pulse of peace that runs faster as children fall in Gaza,
we the women who refuse to keep silent.
We the women; Mo Suchua.
Take with you Aung San Suu Kyi spirit.
When they turn the key,
your souls are ours,
we turn up our cry!
We arrest ourselves,
for her house arrest,
we give our souls.
We know of her pain in Burma,
arrested in our wombs.
Since they turned you in,
we have given many births,
our daughters and sons grown tall
and tall Aung San Suu Kyi!
Defiant as
many suns have risen and set,
they call the moon to her turn.
Aung San Suu Kyi, she,
minute by minute serves a sentence;
and finally the ridicule.
Tell, me, who should be trying who?
I will give my take:
Aung San Suu Kyi, trying Burma,
doing a Mandela,
cos poverty has color,
and then trying the world,
as she holds hands with Mu Suchua.
And so many sisters of all continents.
Raha sina!
Have you seen Hasina?
Ask Lydia Cacho in Mexico,
and hear the echo everywhere.
Cacho says yes.
Hasina she says no to human trafficking,
Hasina today she walks to court gallantly,
Our wind and sun behind her washed hair,
flying in the sun.
Hasina she holds her files of a firm called Impulse!
I like it Hasina,
I see the passion!
Ann Njogu in the grip of a policeman,
tongues are tied,
oppression steals our eyes,
and ears of media.
The same purpose,
the tactics maybe different,
to silence woman.
To Hasina,
they send a woman to beat her,
beaten she is and threatened today,
this afternoon as I write.
Outside court and police watching!
Sisters then,
let the curtain rise now,
and never fall again.
Before nightfall we stand by Hasina,
from four all corners of the world,
we have come,
via internet in our pulse,
Up, let's go!
With Laetitia,
but not for light joy,
it roots in solidarity.
They ask us how we women dance,
in so many costumes, and,
some old, springing in naked,
a curse to proclaim?
Across nations,
How do they come with such a pulse?
No secret.
We live to unwind oppression,
spinning the opposite of colonisation.,
we know how to undo the yearn of years of oppression.
We do know what to do with chains that are not for beauty.
You know our uncles and fathers fought in Burma,
brought by the British the inner core of violence,
all the way from our villages still madmen walk,
singing of when they were in Burma and touching medallions!
You know we were left to handle insanity worse than war.
And then they ask us how we dance to continents with our souls of peace?!
Free our history! Free Cambodia! Free Burma!
Free Kenya's internally displaced persons.
Free the world!
They tied up the world's women,
and turned away.
Reducing their feet to a fifty cent, they,
put structures in the hands of men with,
and vested them with,
raw power.
You know our aches have a common source.
If we follow the river to the source,
we will get our cure,
and use it like manure to sprint to the future,
the past is bleak but we learn from it.
So if you go into exile Hasina Kharbhih, if you do,
if you have to be taken away to a place of peace,
remember your life talks to nations,
of peace and justice,
remember we are here dancing with you,
bleeding and dancing in the revolution of women of peace!
Our souls are yours!
Mu Suchua dancing,
Dancing with Harriet Tubman,
She spirited blacks to freedom!
Aung San Suu Kyi, penning,
dancing with Gertrude Stein,
writing of and for ourselves,
and for the unknown soldiers.
All women dance along to,
"make many mad!"
but making any one who would claim sense,
think!
Sophie Do a Wallar drum to the beat,
Sings to da beat.
She drums to da beat,
dala na, dala na Mama!
Women, the lords of the dance!
Did you see a sari twisting?
Nairobi, August 2007
From:
This Bread of Peace
Copyright ©:
Philo Ikonya
Last updated July 14, 2015