by Michelangelo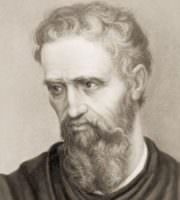 NO mortal thing enthralled these longing eyes
When perfect peace in thy fair face I found;
But far within, where all is holy ground,
My soul felt Love, her comrade of the skies:
For she was born with God in Paradise;
Nor all the shows of beauty shed around
This fair false world her wings to earth have bound:
Unto the Love of Loves aloft she flies.
Nay, things that suffer death, quench not the fire
Of deathless spirits; nor eternity
Serves sordid Time, that withers all things rare.
Not love but lawless impulse is desire:
That slays the soul; our love makes still more fair
Our friends on earth, fairer in death on high.
Last updated January 14, 2019