by Ada Cambridge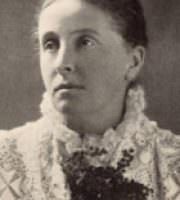 Can this be my poem?-this poor fragment
Of bald thought in meanest language dressed!
Can this string of rhymes be my sweep poem?
All its poetry wholly unexpressed!
Does it tell me of the dreams that wandered,
In the silent night-time, through my brain?
Of the woven web of wondrous fancies,
Half of keenest joy and half of pain?
Does it tell me of the awful beauty
That came down to hide this sordid earth?
Does it tell me of the inward crying?-
Of the glory whence it had its birth?
Only as the lamp, all dull and rusted,
Tells me of the flame that is put out,-
Of the shiny hair and happy faces
Lighted, when its radiance streamed about?
Only as this piece of glass, now lying
In the shade beside me, as I sit,
Tells me of the soft hues of the rainbow,
That the morning sunshine gave to it!
Only as this little flask, now smelling
Of the dust and mould with which 'tis lined,
Tells me of the lovely subtle fragrance
Of the perfume that it once enshrined!
Only as a picture, blurred and faded,
Tells me of the bloom of colour there,
When the painter's soul was with his canvas,
And his paint was bright, and fresh, and fair!
Only as the wires and keys-notes broken,
Odd and scattered-tell me of a strain
That once filled my very soul with rapture,
But can never be spelled out again!
Only as a bare brown flower-stalk tells me
Of the delicate blossom that it wore;
Of the humming bees in silken petals,
And the downy butterflies it bore!
Only as a crazy boat, sun-blistered,
Drawn up high and dry upon the sands,
Tells me of the blue and buoyant billows
Bearing breezy sails to foreign lands!
Only as a little dead lark, lying
With bedraggled wings and withered throat,
Tells me of the songs it heard in heaven-
Trying to teach me, here and there, a note!
Oh no! oh no! this is not my treasure-
This is but the shell where it has lain;
It is gone-the life, and light, and glory,-
And 'twill never come to me again!
Last updated January 14, 2019