by Ada Cambridge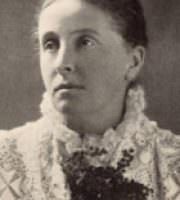 Phew! 'T'is a stuffy and stupid place,
This social edifice by Custom wrought-
This fenced enclosure wherein all are caught,
The great and small, the noble and the base,
And squeezed and flattened to one common face.
Air, air for springing fancy, errant thought!
Scope to make something of the seeming nought!
Room for the fleet foot and the open race!
Break out, O brother, braver than the rest,
Lover of Liberty, whose arm is strong!
Buttress our independence with thy breast,
And fight a passage through the stagnant throng.
Many will press behind thee, but they need
The stalwart captain, not afraid to lead.
Last updated January 14, 2019