by Atul Chandra Sarkar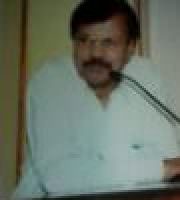 I lost my mother more than two decades ago. Today on her birthday, I spontaneously composed this poem. It's not just for my parents, its for all those who love someone dearly.
The album wears,
The photos fade,
Memories bloom,
In sorrow's shade.
Birds of words,
Chirp in mind,
But beloved faces,
We cannot find.
They came, touched,
They quietly left,
Planting hope,
In hearts bereft.
Surely, we'll meet,
So why be tense?
None can forever be,
A lost past-tense.
Days are numbered,
For each and all,
Green must replace,
The autumn fall.
So let days pass,
In joys immense,
"We shall meet!'
Is future tense.
From:
Atul Chandra Sarkar
Copyright ©:
atul chandra sarkar
Last updated September 15, 2015