by Atul Chandra Sarkar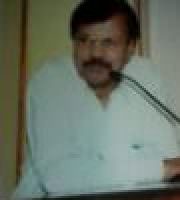 Just dip one finger,
Then you shall know,
What it is to seethe
In an acid throw.
Everything shall change,
The day you're in my place,
When someone throws acid,
On your body and face.
You'll burn, you'll run,
You'll shriek and scream,
When the mirror reflects
Your shattered dream.
When your hair shall singe,
Your skull lose shape,
Your ears scrunch up,
Your blisters painfully gape.
When your sparkling sight
Shall be blind to light,
When all your days turn,
Into an unending night.
When your mouth won't open,
For a morsel or drink,
When your nose, chin, neck,
Crinkle and shrink.
When sleep shall evade,
Your eyelids won't blink,
Your mind shall cramp,
You'll not be able to think.
When it shall be tough
To take normal respiration,
When the skin shall be
Speckled by depigmentation.
When every ogle shall
Self-consciousness increase,
When self-esteem shall lower
And confidence decrease.
When the cinematic past
Shall now and then unfold,
When a chill from top to bottom
Scurry, unbearably cold.
When the scarred soul shall
The veins and nerves harden,
When the mind shall waver
Between revenge and pardon.
When loved ones shall begin
To criticize and victimize,
When society shall distance,
Shun and ostracize.
When each passing second
Shall make your heart sink,
You'll cry, groan, ask:
Why this acid splash in a wink?
It's then, yes then, when
Pain shall call Sorrow,
The two of these shall peer
Into a prospectless morrow.
But nay, let the inner turmoil
Buoy up the iceberg of courage,
Get-up Acid Girls
It's a war you have to wage,
You have to wage!
Yes, you have to wage!
From:
Atul Chandra Sarkar
Copyright ©:
atul chandra sarkar
Last updated August 30, 2015