by Atul Chandra Sarkar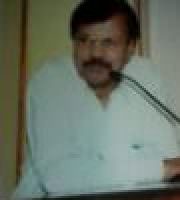 Let's look up in gratitude,
To the boons showered by Maula,
Let's look up in gratitude,
The gift from Asif-ud-daula.
Whether it's true or false,
Perhaps, all of us know,
That Asif-ud-daula provided,
Whom God did not bestow.
But his humble belief was:
Whom God gives, he alone can give,
His people gave him a masterpiece,
He gave food, so that they could live.
Come to the city of 'Pehle aap',
Come to the city of biggest heart,
Come to the magnificent Rumi Gate:
The symbol of rich culture and art.
The Gateway of India and India Gate,
Each has a unique tale to tell,
The logo of Lucknow waits for you,
The Turkish Gate with its endless spell.
Why turn the pages of History,
To glimpse gateways of Constantinople,
The Byzantium charm in all its glory,
Has been re-created by Lucknow people.
Let's reach the eight-faced cenotaph,
At an awesome sixty feet high,
Let's light a huge lantern on the top,
Which with the full moon can vie?
Awadhi architecture is calling you,
The Gateway of Lucknow is calling you,
The City of Nawabs is calling you,
Niceties and preciosities are calling you.
From:
Atul Chandra Sarkar
Copyright ©:
atul chandra sarkar
Last updated September 06, 2015