by Tanaya Winder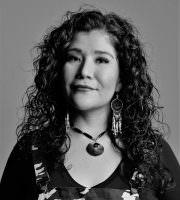 for the murdered & missing Indigenous women on Turtle Island
Not when or where but how, did we lose you,
in between Last Seen _____ the words become elegy
echoing sidewalks and streets. Hand out your picture to
strangers. Post it on Post Office bulletin boards: Missing
as if it were destination, a place one goes
to disappear in invisible cities. Except there's no hero like
in the movies. No ads, mainstream coverage, or TV shows
to show our story. Are we invisible if no one knows, why?
When 1,181 women were taken, did eyes cease to have vision
or pay attention to a body being swallowed up?
Those left behind who remember you continue on a mission,
an endless search of the cities in which we loved
(and love) you. We will never forget. We demand for you
action, words, even a poem that ends: your lives matter, too.
Last updated October 17, 2022