by Theocritus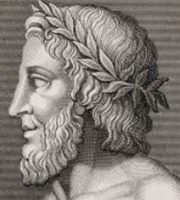 Once I would kiss Eunice. "Back," quoth she,
And screamed and stormed; "a sorry clown kiss me?
Your country compliments, I like not such;
No lips but gentles' would I deign to touch.
Ne'er dream of kissing me: alike I shun
Your face, your language, and your tigerish fun.
How winning are your tones, how fine your air!
Your beard how silken and how sweet your hair!
Pah! you've a sick man's lips, a blackamoor's hand:
Your breath's defilement. Leave me, I command."
Thrice spat she on her robe, and, muttering low,
Scanned me, with half-shut eyes, from top to toe:
Brought all her woman's witcheries into play,
Still smiling in a set sarcastic way,
Till my blood boiled, my visage crimson grew
With indignation, as a rose with dew:
And so she left me, inly to repine
That such as she could flout such charms as mine.
O shepherds, tell me true! Am I not fair?
Am I transformed? For lately I did wear
Grace as a garment; and my cheeks, o'er them
Ran the rich growth like ivy round the stem.
Like fern my tresses o'er my temples streamed;
O'er my dark eyebrows, white my forehead gleamed:
My eyes were of Athene's radiant blue,
My mouth was milk, its accents honeydew.
Then I could sing--my tones were soft indeed!--
To pipe or flute or flageolet or reed:
And me did every maid that roams the fell
Kiss and call fair: not so this city belle.
She scorns the herdsman; knows not how divine
Bacchus ranged once the valleys with his kine;
How Cypris, maddened for a herdsman's sake,
Deigned upon Phrygia's mountains to partake
His cares: and wooed, and wept, Adonis in the brake.
What was Endymion, sweet Selene's love?
A herdsman's lad. Yet came she from above,
Down to green Latmos, by his side to sleep.
And did not Rhea for a herdsman weep?
Didst not thou, Zeus, become a wandering bird,
To win the love of one who drove a herd?
Selene, Cybele, Cypris, all loved swains:
Eunice, loftier-bred, their kiss disdains.
Henceforth, by hill or hall, thy love disown,
Cypris, and sleep the livelong night alone.
Last updated January 14, 2019