by Torquato Tasso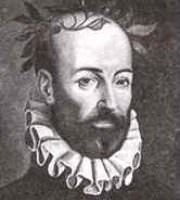 XLVI
"Sir King," quoth she, "my name Clorinda hight,
My fame perchance has pierced your ears ere now,
I come to try my wonted power and might,
And will defend this land, this town, and you,
All hard assays esteem I eath and light,
Great acts I reach to, to small things I bow,
To fight in field, or to defend this wall,
Point what you list, I naught refuse at all."
XLVII
To whom the king, "What land so far remote
From Asia's coasts, or Phoebus' glistering rays,
O glorious virgin, that recordeth not
Thy fame, thine honor, worth, renown, and praise?
Since on my side I have thy succors got,
I need not fear in these my aged days,
For in thine aid more hope, more trust I have,
Than in whole armies of these soldiers brave.
XLVIII
"Now, Godfrey stays too long; he fears, I ween;
Thy courage great keeps all our foes in awe;
For thee all actions far unworthy been,
But such as greatest danger with them draw:
Be you commandress therefore, Princess, Queen
Of all our forces: be thy word a law."
This said, the virgin gan her beaver vail,
And thanked him first, and thus began her tale.
XLIX
"A thing unused, great monarch, may it seem,
To ask reward for service yet to come;
But so your virtuous bounty I esteem,
That I presume for to intreat this groom
And silly maid from danger to redeem,
Condemned to burn by your unpartial doom,
I not excuse, but pity much their youth,
And come to you for mercy and for ruth.
L
"Yet give me leave to tell your Highness this,
You blame the Christians, them my thoughts acquite,
Nor be displeased, I say you judge amiss,
At every shot look not to hit the white,
All what the enchanter did persuade you, is
Against the lore of Macon's sacred rite,
For us commandeth mighty Mahomet
No idols in his temple pure to set.
LI
"To him therefore this wonder done refar,
Give him the praise and honor of the thing,
Of us the gods benign so careful are
Lest customs strange into their church we bring:
Let Ismen with his squares and trigons war,
His weapons be the staff, the glass, the ring;
But let us manage war with blows like knights,
Our praise in arms, our honor lies in fights."
LII
The virgin held her peace when this was said;
And though to pity he never framed his thought,
Yet, for the king admired the noble maid,
His purpose was not to deny her aught:
"I grant them life," quoth he, "your promised aid
Against these Frenchmen hath their pardon bought:
Nor further seek what their offences be,
Guiltless, I quit; guilty, I set them free."
LIII
Thus were they loosed, happiest of humankind,
Olindo, blessed be this act of thine,
True witness of thy great and heavenly mind,
Where sun, moon, stars, of love, faith, virtue, shine.
So forth they went and left pale death behind,
To joy the bliss of marriage rites divine,
With her he would have died, with him content
Was she to live that would with her have brent.
LIV
The king, as wicked thoughts are most suspicious,
Supposed too fast this tree of virtue grew,
O blessed Lord! why should this Pharaoh vicious,
Thus tyrannize upon thy Hebrews true?
Who to perform his will, vile and malicious,
Exiled these, and all the faithful crew,
All that were strong of body, stout of mind,
But kept their wives and children pledge behind.
LV
A hard division, when the harmless sheep
Must leave their lambs to hungry wolves in charge,
But labor's virtues watching, ease her sleep,
Trouble best wind that drives salvation's barge,
The Christians fled, whither they took no keep,
Some strayed wild among the forests large,
Some to Emmaus to the Christian host,
And conquer would again their houses lost.
LVI
Emmaus is a city small, that lies
From Sion's walls distant a little way,
A man that early on the morn doth rise,
May thither walk ere third hour of the day.
Oh, when the Christian lord this town espies
How merry were their hearts? How fresh? How gay?
But for the sun inclined fast to west,
That night there would their chieftain take his rest.
LVII
Their canvas castles up they quickly rear,
And build a city in an hour's space.
When lo, disguised in unusual gear,
Two barons bold approachen gan the place;
Their semblance kind, and mild their gestures were,
Peace in their hands, and friendship in their face,
From Egypt's king ambassadors they come,
Them many a squire attends, and many a groom.
LVIII
The first Aletes, born in lowly shed,
Of parents base, a rose sprung from a brier,
That now his branches over Egypt spread,
No plant in Pharaoh's garden prospered higher;
With pleasing tales his lord's vain ears he fed,
A flatterer, a pick-thank, and a liar:
Cursed be estate got with so many a crime,
Yet this is oft the stair by which men climb.
LIX
Argantes called is that other knight,
A stranger came he late to Egypt land,
And there advanced was to honor's height,
For he was stout of courage, strong of hand,
Bold was his heart, and restless was his sprite,
Fierce, stern, outrageous, keen as sharpened brand,
Scorner of God, scant to himself a friend,
And pricked his reason on his weapon's end.
LX
These two entreatance made they might be heard,
Nor was their just petition long denied;
The gallants quickly made their court of guard,
And brought them in where sate their famous guide,
Whose kingly look his princely mind declared,
Where noblesse, virtue, troth, and valor bide.
A slender courtesy made Argantes bold,
So as one prince salute another wold;
LXI
Aletes laid his right hand on his heart,
Bent down his head, and cast his eyes full low,
And reverence made with courtly grace and art,
For all that humble lore to him was know;
His sober lips then did he softly part,
Whence of pure rhetoric, whole streams outflow,
And thus he said, while on the Christian lords
Down fell the mildew of his sugared words:
LXII
"O only worthy, whom the earth all fears,
High God defend thee with his heavenly shield,
And humble so the hearts of all thy peers,
That their stiff necks to thy sweet yoke may yield:
These be the sheaves that honor's harvest bears,
The seed thy valiant acts, the world the field,
Egypt the headland is, where heaped lies
Thy fame, worth, justice, wisdom, victories.
LXIII
"These altogether doth our sovereign hide
In secret store-house of his princely thought,
And prays he may in long accordance bide,
With that great worthy which such wonders wrought,
Nor that oppose against the coming tide
Of proffered love, for that he is not taught
Your Christian faith, for though of divers kind,
The loving vine about her elm is twined.
LXIV
"Receive therefore in that unconquered hand
The precious handle of this cup of love,
If not religion, virtue be the band
'Twixt you to fasten friendship not to move:
But for our mighty king doth understand,
You mean your power 'gainst Juda land to prove,
He would, before this threatened tempest fell,
I should his mind and princely will first tell.
LXV
"His mind is this, he prays thee be contented
To joy in peace the conquests thou hast got,
Be not thy death, or Sion's fall lamented,
Forbear this land, Judea trouble not,
Things done in haste at leisure be repented:
Withdraw thine arms, trust not uncertain lot,
For oft to see what least we think betide;
He is thy friend 'gainst all the world beside.
Last updated January 14, 2019