by Celia Dropkin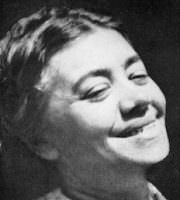 My mother,
Widowed at twenty-two
And left with two small children,
Chastely determined
Never to be anyone's wife again.
Her days and years went by quietly
As if lit by a begrudging wax candle.
My mother was never anyone's wife again,
But through many days, many years,
Many nights, the sighs
Of her young and loving being,
Of her yearning blood,
Entered my childish heart,
Deep within me I absorbed them all.
My mother's hidden yearning
Poured into me freely
Like an underground stream.
And now my mother's seething,
Holy,
Deeply hidden desire
Spurts openly from me.
From:
Anthology of Yiddish Women Poets
Copyright ©:
1928, Translated by Seymour Levitan
Last updated July 15, 2015