by Reza Shirmarz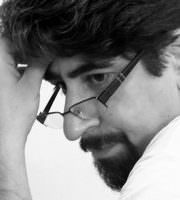 With your kisses
my voice
is flavored,
along with your fingertips
burn
my innocent limbs,
withered
before blossoming
lacks my body
your nightly insanity.
I don't exist if
I'm no longer sad,
and you won't find
my address...
with your fragrance
my writings
my face and hands
are colored.
with your footsteps
-never seen its end
even the foretellers-
my poems
are all disquiet.
Copyright ©:
Reza Shirmarz
Last updated August 17, 2015