by Michelangelo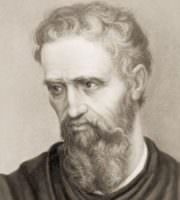 Though times presses and prods me on
Each hour with greater fray
To give back to the clay
My tired worn limbs and sore
But he will yet do more
Who saddens my soul yet so glad makes.
Nor does it seem he'll pardon
- he who unlocks my heart or bars the way -
In the hours just before
And most doubtful if to peace I'll reawake;
that the usual mistake,
The older I grow gets ever worse.
O harsher is mine than any cruel curse!
to lighten my burdens it's late for you;
A heart that burns, for years burnt through,
Turns, should reason slack the whole,
Not heart again but ash and charcoal.
Last updated January 14, 2019