by Kazys Boruta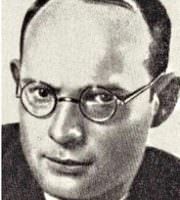 After an unsuccessful trip to eternity
I returned to old Vilnius, my native city,
and put up in a flat built not long ago,
which looked like a coffin - its ceiling was so low,
while into the window like ghosts, eyes agog,
crept shadows from the ruins of an old sinagogue.
On that first of a long line of sleepless nights
I fancied - the eeriest of nightmarish sights! -
that the blocks of old houses had come alive
and the ruined old sinagogue rose, revived,
and on its balcony, coloured blue,
rabbi Gaon was sitting anew.
"Rebe Gaon", I addressed the man,
"Accept my apologies if you can
for interrupting your thoughts on eternity,
but I'd very much like, from the standpoint of modernity,
to talk of philosopher Maimonide's ideas
which have long been upsetting my mental peace.
"I first came across them right after the war
when I met with a Jew who was old, tired and sore,
having gone through all deathcamps in Poland and Germany
and not flown as smoke from a crematorium chimney.
Facing a corner, in a cellar he sat,
plaintively chanting a prayer,
for he thought that, by some miracle,
he was the last Jew left anywhere,
and bemoaned the plight of his people.
"Then we started talking
about Maimonide's philosophy
according to which a man suffers
not for any fault of his own
but for all his people
and all its history.
I myself more than once thought the same
But dismissed it as quite impossible.
Be so kind, o rebe Gaon,
- for you are a pillar of wisdom -
tell me, can this really be true?"
Falling into thought, Gaon made no reply,
only, digging into a fat talmud,
sorrowfully waged his head,
returning to his eternity,
while I again found myself sighing and coughing
in a new flat, low-ceilinged like a coffin,
with the unsolved puzzle:
for what do men,
people,
and all mankind
suffer terrible torments
which never cease?
When spring came,
I wanted to talk again
with rabbi Gaon about the same subject,
but there, in the place where the ruins has stood
I saw children at play.
But after all, maybe so it should be,
maybe they are eternity,
and through them, life will come back to the old city?
Last updated January 14, 2019