by Gwendolyn Elizabeth Brooks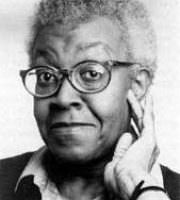 What shall I give my children? who are poor,
Who are adjudged the leastwise of the land,
Who are my sweetest lepers, who demand
No velvet and no velvety velour;
But who have begged me for a brisk contour,
Crying that they are quasi, contraband
Because unfinished, graven by a hand
Less than angelic, admirable or sure.
My hand is stuffed with mode, design, device.
But I lack access to my proper stone
And plenitude of plan shall not suffice
Nor grief nor love shall be enough alone
To ratify my little halves who bear
Across an autumn freezing everywhere . . .
Last updated January 14, 2019