by Samuel Lover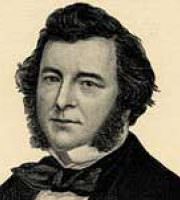 Far shore, far shore-how far
O'er the tide of Time you seem;-
Where is the mystic star
To guide o'er the waters far-
To that shore of my fancy's dream?
Far shore, far shore, on thee
Are the flowers in endless bloom?
Or there may the desert be,
With the deadly Upas tree,
Where the seeker but finds a tomb?
A voice from the deep replied-
"Ask not what lies before-
(Vain wish, by Heaven denied
Thy bark a resistless tide
Will bear, as it others bore.
"Dream not of shores so far,
Heed not a siren's song,
Seek not for mystic star-
Trust to the means that are-
Be thy voyage or short, or long."
Last updated January 14, 2019