by Robert William Service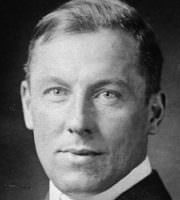 Pedlar's coming down the street,
Housewives beat a swift retreat.
Don't you answer to the bell;
Heedless what she has to sell.
Just discreetly go inside.
We must hang a board, I fear:
PEDLARS NOT PERMITTED HERE.
I'm trying to sell what nobody wants to buy;
They turn me away, but still I try and try.
My arms are aching and my feet are sore;
Heartsick and worn I drag from door to door.
I ring bells, meekly knock, hold out my tray,
But no one answers, so I go away.
I am so weary; oh, I want to cry,
Trying to sell what no one wants to buy.
I do not blame them. Maybe in their place
I'd slam the door shut in a pedlar's face.
I don not know; perhaps I'd raise their hopes
By looking at their pens and envelopes,
Their pins and needles, pencils, spools of thread,
Cheap tawdry stuff, before I shake my head
And go back to my cosy kitchen nook
Without another thought or backward look.
I would not see their pain nor hear their sigh,
Trying to sell what no one wants to buy.
I know I am a nuisance. I can see
They only buy because they pity me.
They may . . . I've had a cottage of my own,
A husband, children; now I am alone,
Friendless in all the world. The bitter years
Have crushed me, robbed me of my dears.
All, all I've lost, my only wish to die,
Selling my trash that no one wants to buy.
Pedlar's beating a retreat -
Poor old thing, her face is sweet,
her figure frail, her hair snow-white;
Dogone it! Every door's shut tight. . . .
"Say, Ma, how much for all you've got?
Hell, here's ten bucks . . . I'll take the lot.
Go, get yourself a proper feed,
A little of the rest you need.
I've got a mother looks like you -
I'd hate her doing what you do. . . .
No, don't get sloppy, can the mush,
Praying for me; all that slush;
But please don't come again this way,
Ten bucks is all I draw a day."
Last updated May 02, 2015