by Sappho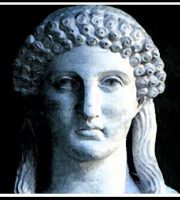 Cytherea, thy dainty Adonis is dying!
Ah, what shall we do?
O Nymphs, let it echo, the voice of your crying,
The greenwood through!
O Forest-maidens, smite on the breast,
Rend ye the delicate-woven vest!
Let the wail ring wild and high:
"Ah for Adonis!" cry.
O Sappho, how canst thou chant the bliss
Of Kypris - after such day as this?
"Oh Adonis, thou leavest me - woe for my lot!
And Eros, my servant, availeth me not!"
So wails Cytherea, grief-distraught.
"Who shall console me for thee? There is none -
Not Ares my god-lover, passionate one
Who sware in his jealousy forth to hale
Hephaestus my spouse from his palace, if he
Dared but to lift his eyes unto me.
Not he can console me, Adonis, for thee!"
Wail for Adonis, wail!
Last updated January 14, 2019