by Selma Meerbaum-Eisinger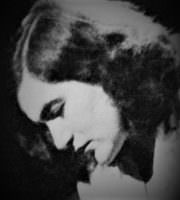 The trees are doused in soft light,
each leaf glistens, trembles in wind.
Sky, silk-blue and clear,
like dewdrops shed from the morning wind.
Caged firs in a hushed blush
bow to their majesty, the wind.
Behind the poplars, the moon squints at a smiling child
who is already waving, Hallo.
Underbrush is miraculous in wind:
now silver, now, bright green
and, soon, like moonlight on golden hair,
again it is blooming.
I want to live.
Look, life is so colorful.
There are so many beautiful spheres.
Mouths wait, laugh, glow,
express joy.
Just look at the road as it rises:
so wide and bright, as though waiting for me.
And somewhere far away, restless and sobbing,
is the longing streaming through you and me.
The wind roars through the forest, calling—
Our life can sing.
The air is tender, quiet, and cold,
the distant poplar waves and waves.
I want to live.
I want to laugh and bear all my burdens
I want to fight, know love, know hate
I want to hold sky in my hands
I want to be free and breathe and scream.
I do not want to die. No!
Life is red.
Life is mine
mine and yours
Mine.
Why are the cannons roaring?
Why must we die
for glittering gold?
Here is the moon.
Here.
Close.
Closer.
I have to wait.
For what?
They die
the numbers pile up.
Never rise again.
Never and never.
I want to live.
Brother, you, too.
Breath
steams from our mouths.
Life is colorful.
You want to kill me.
Why?
The forest weeps
like a thousand flutes.
The moon glows silver against blue.
The poplars are gray.
The wind roars at me.
The street is bright.
Then
then they come
and strangle me.
Me and you.
Dead.
Life is red
roars and laughs.
Overnight
I am
dead.
A shadow of one
tree haunts the moon.
You can hardly see.
A tree.
A
tree.
A life
can cast shadows
across
the moon.
A
life.
Bodies after bodies
they die.
Never rise again.
Never
and
never.
Copyright ©:
Translated from the German by Carlie Hoffman
Last updated January 10, 2023