by Sonia Sanchez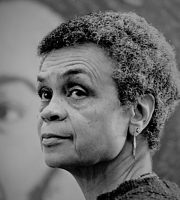 i am deep/blk/soil
they have tried to pollute me
with a poison called America.
they have tried to
scorch my roots
with dope
they have tried to
drown my dreams with alcohol
with too many men who spit
their foam on top of my fruit
till it drops
rotten in America's
parks.
but i am deeeeeEEEp
blue/blk/soil
and you can hear the
sound of my walken
as i bring forth green songs
from a seasoned breast
as i burn on our evening bed
of revolution.
i, being blk
woooOOOMAN
know only the way of the womb
for i am deep/red/soil
for our emergen Blk Nation.
Copyright ©:
Beacon Press
Last updated May 16, 2023