Biography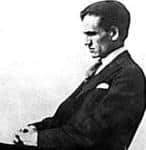 César Abraham Vallejo Mendoza was a Peruvian poet. Although he published only three books of poetry during his lifetime, he is considered one of the great poetic innovators of the 20th century in any language. Thomas Merton called him "the greatest universal poet since Dante". Always a step ahead of the literary currents, each of his books was distinct from the others and, in its own sense, revolutionary. Clayton Eshleman and José Rubia Barcia's translation of The Complete Posthumous Poetry of César Vallejo won the National Book Award for translation in 1979. The late British poet, critic and biographer Martin Seymour-Smith, a leading authority on world literature, called Vallejo "...the greatest twentieth-century poet in any language."
César Vallejo was born on March 16, 1892, in Santiago de Chuco, Perú. The youngest of eleven children, Vallejo's parents and grandparents immersed him and his siblings in religion, as both Vallejo's grandfathers were Spanish Catholic priests. He enrolled at Trujillo University in 1910 to study philosophy and writing, but financial difficulties halted his education there. Vallejo began tutoring and accounting to pay for college, and in 1913 he re-enrolled at Trujillo. He studied law and literature, earning a degree in Spanish literature two years later.
Vallejo moved to Lima and took a position as a school principal. He also involved himself with the liberal, avant-garde societies of Perú's capital. He published his first poetry collection, Los heraldos negros (The black heralds), in 1919, … [Vallejo published Trilce in 1922, a book that brought Latin America to the forefront of the avant-garde poetry movement] …and received positive criticism and a strong public response. However, Vallejo's life turned sour rather quickly during a visit to his hometown when his mother died in 1920. Shortly afterward, he was imprisoned for more than 100 days on the suspicion that, because of his leftist sympathies, he was involved a shooting incident, an experience that further fueled his radical political views. Vallejo published Trilce in 1922, a book that brought Latin America to the forefront of the avant-garde poetry movement. Strained under serious poverty after being fired from a third teaching job, the poet moved to Paris with a friend, Julio Gálvez, the following year.
His financial situation in France did not improve at all; if anything, he found himself deeper in poverty. He contributed poems and articles to magazines, but nothing permanent surfaced for years. Eventually, in 1925, Vallejo found employment as a press agent and received a grant to study law at the University of Madrid. He continued writing poetry and prose, increasingly inspired by his strong Communist opinions and his dedication to Marxist theory. He also traveled several times to Russia and helped form the Peruvian Socialist party. In the early 1930s, Vallejo decided to no longer publish poetry and instead focused on economic philosophy, dramatic works, and a novel, El tungsteno (1931). He and his partner Georgette Philipart moved frequently between Spain and France during the decade, evading the French authorities trying to arrest Vallejo and throw him out of the country. He was only allowed to live permanently in Paris in 1933 if he promised to be completely inactive politically. He married Philipart in 1934 and three years later, living in extreme poverty and writing prolifically, attended the Second International Congress for Writers of the Defense Culture. Afterwards, Vallejo wrote a fifteen-scene tragedy and almost seventy poems in the span of just a few months. He died on April 15, 1938, the same day the Fascists invaded the Mediterranean, in Paris. Two volumes of his poetry were published posthumously by his wife Georgette.
Last updated June 29, 2011