by Theocritus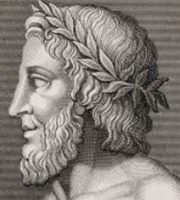 MILO. BATTUS.
What now, poor o'erworked drudge, is on thy mind?
No more in even swathe thou layest the corn:
Thy fellow-reapers leave thee far behind,
As flocks a ewe that's footsore from a thorn.
By noon and midday what will be thy plight
If now, so soon, thy sickle fails to bite?
BATTUS.
Hewn from hard rocks, untired at set of sun,
Milo, didst ne'er regret some absent one?
MILO.
Not I. What time have workers for regret?
BATTUS.
Hath love ne'er kept thee from thy slumbers yet?
MILO.
Nay, heaven forbid! If once the cat taste cream!
BATTUS.
Milo, these ten days love hath been my dream.
MILO.
You drain your wine, while vinegar's scarce with me.
BATTUS.
--Hence since last spring untrimmed my borders be.
MILO.
And what lass flouts thee?
BATTUS.
She whom we heard play
Amongst Hippocooen's reapers yesterday.
MILO.
Your sins have found you out--you're e'en served right:
You'll clasp a corn-crake in your arms all night.
BATTUS.
You laugh: but headstrong Love is blind no less
Than Plutus: talking big is foolishness.
MILO.
I talk not big. But lay the corn-ears low
And trill the while some love-song--easier so
Will seem your toil: you used to sing, I know.
BATTUS.
Maids of Pieria, of my slim lass sing!
One touch of yours ennobles everything.
[_Sings_]
Fairy Bombyca! thee do men report
Lean, dusk, a gipsy: I alone nut-brown.
Violets and pencilled hyacinths are swart,
Yet first of flowers they're chosen for a crown.
As goats pursue the clover, wolves the goat,
And cranes the ploughman, upon thee I dote.
Had I but Croesus' wealth, we twain should stand
Gold-sculptured in Love's temple; thou, thy lyre
(Ay or a rose or apple) in thy hand,
I in my brave new shoon and dance-attire.
Fairy Bombyca! twinkling dice thy feet,
Poppies thy lips, thy ways none knows how sweet!
MILO.
Who dreamed what subtle strains our bumpkin wrought?
How shone the artist in each measured verse!
Fie on the beard that I have grown for naught!
Mark, lad, these lines by glorious Lytierse.
[_Sings_]
O rich in fruit and cornblade: be this field
Tilled well, Demeter, and fair fruitage yield!
Bind the sheaves, reapers: lest one, passing, say--
'A fig for these, they're never worth their pay.'
Let the mown swathes look northward, ye who mow,
Or westward--for the ears grow fattest so.
Avoid a noontide nap, ye threshing men:
The chaff flies thickest from the corn-ears then.
Wake when the lark wakes; when he slumbers, close
Your work, ye reapers: and at noontide doze.
Boys, the frogs' life for me! They need not him
Who fills the flagon, for in drink they swim.
Better boil herbs, thou toiler after gain,
Than, splitting cummin, split thy hand in twain.
Strains such as these, I trow, befit them well
Who toil and moil when noon is at its height:
Thy meagre love-tale, bumpkin, though shouldst tell
Thy grandam as she wakes up ere 'tis light.
Last updated January 14, 2019