by Theocritus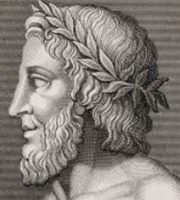 What fires the Muse's, what the minstrel's lays?
Hers some immortal's, ours some hero's praise,
Heaven is her theme, as heavenly was her birth:
We, of earth earthy, sing the sons of earth.
Yet who, of all that see the gray morn rise,
Lifts not his latch and hails with eager eyes
My Songs, yet sends them guerdonless away?
Barefoot and angry homeward journey they,
Taunt him who sent them on that idle quest,
Then crouch them deep within their empty chest,
(When wageless they return, their dismal bed)
And hide on their chill knees once more their patient head.
Where are those good old times? Who thanks us, who,
For our good word? Men list not now to do
Great deeds and worthy of the minstrel's verse:
Vassals of gain, their hand is on their purse,
Their eyes on lucre: ne'er a rusty nail
They'll give in kindness; this being aye their tale:--
"Kin before kith; to prosper is my prayer;
Poets, we know, are heaven's peculiar care.
We've Homer; and what other's worth a thought?
I call him chief of bards who costs me naught."
Yet what if all your chests with gold are lined?
Is this enjoying wealth? Oh fools and blind!
Part on your heart's desire, on minstrels spend
Part; and your kindred and your kind befriend:
And daily to the gods bid altar-fires ascend.
Nor be ye churlish hosts, but glad the heart
Of guests with wine, when they must needs depart:
And reverence most the priests of sacred song:
So, when hell hides you, shall your names live long;
Not doomed to wail on Acheron's sunless sands,
Like some poor hind, the inward of whose hands
The spade hath gnarled and knotted, born to groan,
Poor sire's poor offspring, hapless Penury's own!
Their monthly dole erewhile unnumbered thralls
Sought in Antiochus', in Aleuas' halls;
On to the Scopadae's byres in endless line
The calves ran lowing with the horned kine;
And, marshalled by the good Creondae's swains
Myriads of choice sheep basked on Cranron's plains.
Yet had their joyaunce ended, on the day
When their sweet spirit dispossessed its clay,
To hated Acheron's ample barge resigned.
Nameless, their stored-up luxury left behind,
With the lorn dead through ages had they lain,
Had not a minstrel bade them live again:--
Had not in woven words the Ceian sire
Holding sweet converse with his full-toned lyre
Made even their swift steeds for aye renowned,
When from the sacred lists they came home crowned.
Forgot were Lycia's chiefs, and Hector's hair
Of gold, and Cycnus femininely fair;
But that bards bring old battles back to mind.
Odysseus--he who roamed amongst mankind
A hundred years and more, reached utmost hell
Alive, and 'scaped the giant's hideous cell--
Had lived and died: Eumaeus and his swine;
Philoetius, busy with his herded kine;
And great Laertes' self, had passed away,
Were not their names preserved in Homer's lay.
Through song alone may man true glory taste;
The dead man's riches his survivors waste.
But count the waves, with yon gray wind-swept main
Borne shoreward: from a red brick wash his stain
In some pool's violet depths: 'twill task thee yet
To reach the heart on baleful avarice set.
To such I say 'Fare well': let theirs be store
Of wealth; but let them always crave for more:
Horses and mules inferior things _I_ find
To the esteem and love of all mankind.
But to what mortal's roof may I repair,
I and my Muse, and find a welcome there?
I and my Muse: for minstrels fare but ill,
Reft of those maids, who know the mightiest's will.
The cycle of the years, it flags not yet;
In many a chariot many a steed shall sweat:
And one, to manhood grown, my lays shall claim,
Whose deeds shall rival great Achilles' fame,
Who from stout Aias might have won the prize
On Simois' plain, where Phrygian Ilus lies.
Now, in their sunset home on Libya's heel,
Phoenicia's sons unwonted chillness feel:
Now, with his targe of willow at his breast,
The Syracusan bears his spear in rest,
Amongst these Hiero arms him for the war,
Eager to fight as warriors fought of yore;
The plumes float darkling o'er his helmed brow.
O Zeus, the sire most glorious; and O thou,
Empress Athene; and thou, damsel fair,
Who with thy mother wast decreed to bear
Rule o'er rich Corinth, o'er that city of pride
Beside whose walls Anapus' waters glide:--
May ill winds waft across the Southern sea
(Of late a legion, now but two or three,)
Far from our isle, our foes; the doom to tell,
To wife and child, of those they loved so well;
While the old race enjoy once more the lands
Spoiled and insulted erst by alien hands!
And fair and fruitful may their cornlands be!
Their flocks in thousands bleat upon the lea,
Fat and full-fed; their kine, as home they wind,
The lagging traveller of his rest remind!
With might and main their fallows let them till:
Till comes the seedtime, and cicalas trill
(Hid from the toilers of the hot midday
In the thick leafage) on the topmost spray!
O'er shield and spear their webs let spiders spin,
And none so much as name the battle-din!
Then Hiero's lofty deeds may minstrels bear
Beyond the Scythian ocean-main, and where
Within those ample walls, with asphalt made
Time-proof, Semiramis her empire swayed.
I am but a single voice: but many a bard
Beside me do those heavenly maids regard:
May those all love to sing, 'mid earth's acclaim,
Of Sicel Arethuse, and Hiero's fame.
O Graces, royal nurselings, who hold dear
The Minyae's city, once the Theban's fear:
Unbidden I tarry, whither bidden I fare
My Muse my comrade. And be ye too there,
Sisters divine! Were ye and song forgot,
What grace had earth? With you be aye my lot!
Last updated January 14, 2019