by Theocritus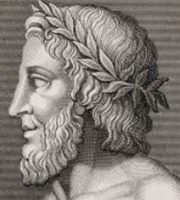 Whilom, in Lacedaemon,
Tript many a maiden fair
To gold-tressed Menelaus' halls,
With hyacinths in her hair:
Twelve to the Painted Chamber,
The queenliest in the land,
The clustered loveliness of Greece,
Came dancing hand in hand.
For Helen, Tyndarus' daughter,
Had just been wooed and won,
Helen the darling of the world,
By Atreus' younger son:
With woven steps they beat the floor
In unison, and sang
Their bridal-hymn of triumph
Till all the palace rang.
"Slumberest so soon, sweet bridegroom?
Art thou o'erfond of sleep?
Or hast thou leadenweighted limbs?
Or hadst thou drunk too deep
When thou didst fling thee to thy lair?
Betimes thou should'st have sped,
If sleep were all thy purpose,
Unto thy bachelor's bed:
And left her in her mother's arms
To nestle, and to play
A girl among her girlish mates
Till deep into the day:--
For not alone for this night,
Nor for the next alone,
But through the days and through the years
Thou hast her for thine own.
"Nay! heaven, O happy bridegroom,
Smiled as thou enteredst in
To Sparta, like thy brother kings,
And told thee thou should'st win!
What hero son-in-law of Zeus
Hath e'er aspired to be?
Yet lo! one coverlet enfolds
The child of Zeus, and thee.
Ne'er did a thing so lovely
Roam the Achaian lea.
"And who shall match her offspring,
If babes are like their mother?
For we were playmates once, and ran
And raced with one another
(All varnished, warrior fashion)
Along Eurotas' tide,
Thrice eighty gentle maidens,
Each in her girlhood's pride:
Yet none of all seemed faultless,
If placed by Helen's side.
"As peers the nascent Morning
Over thy shades, O Night,
When Winter disenchains the land,
And Spring goes forth in white:
So Helen shone above us,
All loveliness and light.
"As climbs aloft some cypress,
Garden or glade to grace;
As the Thessalian courser lends
A lustre to the race:
So bright o'er Lacedaemon
Shone Helen's rosebud face.
"And who into the basket e'er
The yarn so deftly drew,
Or through the mazes of the web
So well the shuttle threw,
And severed from the framework
As closelywov'n a warp:--
And who could wake with masterhand
Such music from the harp,
To broadlimbed Pallas tuning
And Artemis her lay--
As Helen, Helen in whose eyes
The Loves for ever play?
"O bright, O beautiful, for thee
Are matron-cares begun.
We to green paths and blossomed meads
With dawn of morn must run,
And cull a breathing chaplet;
And still our dream shall be,
Helen, of thee, as weanling lambs
Yearn in the pasture for the dams
That nursed their infancy.
"For thee the lowly lotus-bed
We'll spoil, and plait a crown
To hang upon the shadowy plane;
For thee will we drop down
('Neath that same shadowy platan)
Oil from our silver urn;
And carven on the bark shall be
This sentence, 'HALLOW HELEN'S TREE';
In Dorian letters, legibly
For all men to discern.
"Now farewell, bride, and bridegroom
Blest in thy new-found sire!
May Leto, mother of the brave,
Bring babes at your desire,
And holy Cypris either's breast
With mutual transport fire:
And Zeus the son of Cronos
Grant blessings without end,
From princely sire to princely son
For ever to descend.
"Sleep on, and love and longing
Breathe in each other's breast;
But fail not when the morn returns
To rouse you from your rest:
With dawn shall we be stirring,
When, lifting high his fair
And feathered neck, the earliest bird
To clarion to the dawn is heard.
O god of brides and bridals,
Sing 'Happy, happy pair!'"
Last updated January 14, 2019