by Theocritus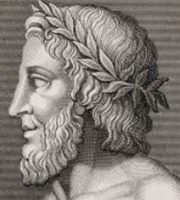 DAPHNIS. A MAIDEN.
THE MAIDEN.
How fell sage Helen? through a swain like thee.
DAPHNIS.
Nay the true Helen's just now kissing me.
THE MAIDEN.
Satyr, ne'er boast: 'what's idler than a kiss?'
DAPHNIS.
Yet in such pleasant idling there is bliss.
THE MAIDEN.
I'll wash my mouth: where go thy kisses then?
DAPHNIS.
Wash, and return it--to be kissed again.
THE MAIDEN.
Go kiss your oxen, and not unwed maids.
DAPHNIS.
Ne'er boast; for beauty is a dream that fades.
THE MAIDEN.
Past grapes are grapes: dead roses keep their smell.
DAPHNIS.
Come to yon olives: I have a tale to tell.
THE MAIDEN.
Not I: you fooled me with smooth words before.
DAPHNIS.
Come to yon elms, and hear me pipe once more.
THE MAIDEN.
Pipe to yourself: your piping makes me cry.
DAPHNIS.
A maid, and flout the Paphian? Fie, oh fie!
THE MAIDEN.
She's naught to me, if Artemis' favour last.
DAPHNIS.
Hush, ere she smite you and entrap you fast.
THE MAIDEN.
And let her smite me, trap me as she will!
DAPHNIS.
Your Artemis shall be your saviour still?
THE MAIDEN.
Unhand me! What, again? I'll tear your lip.
DAPHNIS.
Can you, could damsel e'er, give Love the slip?
THE MAIDEN.
You are his bondslave, but not I by Pan!
DAPHNIS.
I doubt he'll give thee to a worser man.
THE MAIDEN.
Many have wooed me, but I fancied none.
DAPHNIS.
Till among many came the destined _one_.
THE MAIDEN.
Wedlock is woe. Dear lad, what can I do?
DAPHNIS.
Woe it is not, but joy and dancing too.
THE MAIDEN.
Wives dread their husbands: so I've heard it said.
DAPHNIS.
Nay, they rule o'er them. What does woman dread?
THE MAIDEN.
Then children--Eileithya's dart is keen.
DAPHNIS.
But the deliverer, Artemis, is your queen.
THE MAIDEN.
And bearing children all our grace destroys.
DAPHNIS.
Bear them and shine more lustrous in your boys.
THE MAIDEN.
Should I say yea, what dower awaits me then?
DAPHNIS.
Thine are my cattle, thine this glade and glen.
THE MAIDEN.
Swear not to wed, then leave me in my woe?
DAPHNIS.
Not I by Pan, though thou should'st bid me go.
THE MAIDEN.
And shall a cot be mine, with farm and fold!
DAPHNIS.
Thy cot's half-built, fair wethers range this wold.
THE MAIDEN.
What, what to my old father must I say?
DAPHNIS.
Soon as he hears my name he'll not say nay.
THE MAIDEN.
Speak it: by e'en a name we're oft beguiled.
DAPHNIS.
I'm Daphnis, Lycid's and Nomaea's child.
THE MAIDEN.
Well-born indeed: and not less so am I.
DAPHNIS.
I know--Menalcas' daughter may look high.
THE MAIDEN.
That grove, where stands your sheepfold, shew me please.
DAPHNIS.
Nay look, how green, how tall my cypress-trees.
THE MAIDEN.
Graze, goats: I go to learn the herdsman's trade.
DAPHNIS.
Feed, bulls: I shew my copses to my maid.
THE MAIDEN.
Satyr, what mean you? You presume o'ermuch.
DAPHNIS.
This waist is round, and pleasant to the touch.
THE MAIDEN.
By Pan, I'm like to swoon! Unhand me pray!
DAPHNIS.
Why be so timorous? Pretty coward, stay.
THE MAIDEN.
This bank is wet: you've soiled my pretty gown.
DAPHNIS.
See, a soft fleece to guard it I put down.
THE MAIDEN.
And you've purloined my sash. What can this mean?
DAPHNIS.
This sash I'll offer to the Paphian queen.
THE MAIDEN.
Stay, miscreant--some one comes--I heard a noise.
DAPHNIS.
'Tis but the green trees whispering of our joys.
THE MAIDEN.
You've torn my plaidie, and I am half unclad.
DAPHNIS.
Anon I'll give thee a yet ampler plaid.
THE MAIDEN.
Generous just now, you'll one day grudge me bread.
DAPHNIS.
Ah! for thy sake my life-blood I could shed.
THE MAIDEN.
Artemis, forgive! Thy eremite breaks her vow.
DAPHNIS.
Love, and Love's mother, claim a calf and cow.
THE MAIDEN.
A woman I depart, my girlhood o'er.
DAPHNIS.
Be wife, be mother; but a girl no more.
Thus interchanging whispered talk the pair,
Their faces all aglow, long lingered there.
At length the hour arrived when they must part.
With downcast eyes, but sunshine in her heart,
She went to tend her flock; while Daphnis ran
Back to his herded bulls, a happy man.
Last updated January 14, 2019