by Torquato Tasso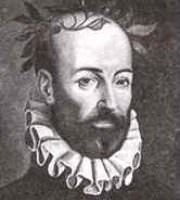 LXI
"Presages, ah too true:" with that a space
He sighed for grief, then said, "Fain would I know
The man in red, with such a knightly grace,
A worthy lord he seemeth by his show,
How like to Godfrey looks he in the face,
How like in person! but some-deal more low."
"Baldwin," quoth she, "that noble baron hight,
By birth his brother, and his match in might.
LXII
"Next look on him that seems for counsel fit,
Whose silver locks betray his store of days,
Raymond he hight, a man of wondrous wit,
Of Toulouse lord, his wisdom is his praise;
What he forethinks doth, as he looks for, hit,
His stratagems have good success always:
With gilded helm beyond him rides the mild
And good Prince William, England's king's dear child.
LXIII
"With him is Guelpho, as his noble mate,
In birth, in acts, in arms alike the rest,
I know him well, since I beheld him late,
By his broad shoulders and his squared breast:
But my proud foe that quite hath ruinate
My high estate, and Antioch opprest,
I see not, Boemond, that to death did bring
Mine aged lord, my father, and my king."
LXIV
Thus talked they; meanwhile Godfredo went
Down to the troops that in the valley stayed,
And for in vain he thought the labor spent,
To assail those parts that to the mountains laid,
Against the northern gate his force he bent,
Gainst it he camped, gainst it his engines played;
All felt the fury of his angry power,
That from those gates lies to the corner tower.
LXV
The town's third part was this, or little less,
Fore which the duke his glorious ensigns spread,
For so great compass had that forteress,
That round it could not be environed
With narrow siege - nor Babel's king I guess
That whilom took it, such an army led -
But all the ways he kept, by which his foe
Might to or from the city come or go.
LXVI
His care was next to cast the trenches deep,
So to preserve his resting camp by night,
Lest from the city while his soldiers sleep
They might assail them with untimely flight.
This done he went where lords and princes weep
With dire complaints about the murdered knight,
Where Dudon dead lay slaughtered on the ground.
And all the soldiers sat lamenting round.
LXVII
His wailing friends adorned the mournful bier
With woeful pomp, whereon his corpse they laid,
And when they saw the Bulloigne prince draw near,
All felt new grief, and each new sorrow made;
But he, withouten show or change of cheer,
His springing tears within their fountains stayed,
His rueful looks upon the corpse he cast
Awhile, and thus bespake the same at last;
LXVIII
"We need not mourn for thee, here laid to rest,
Earth is thy bed, and not the grave the skies
Are for thy soul the cradle and the nest,
There live, for here thy glory never dies:
For like a Christian knight and champion blest
Thou didst both live and die: now feed thine eyes
With thy Redeemer's sight, where crowned with bliss
Thy faith, zeal, merit, well-deserving is.
LXIX
"Our loss, not thine, provokes these plaints and tears:
For when we lost thee, then our ship her mast,
Our chariot lost her wheels, their points our spears,
The bird of conquest her chief feather cast:
But though thy death far from our army hears
Her chiefest earthly aid, in heaven yet placed
Thou wilt procure its help Divine, so reaps
He that sows godly sorrow, joy by heaps.
LXX
"For if our God the Lord Armipotent
Those armed angels in our aid down send
That were at Dothan to his prophet sent,
Thou wilt come down with them, and well defend
Our host, and with thy sacred weapons bent
Gainst Sion's fort, these gates and bulwarks rend,
That so by hand may win this hold, and we
May in these temples praise our Christ for thee."
LXXI
Thus he complained; but now the sable shade
Ycleped night, had thick enveloped
The sun in veil of double darkness made;
Sleep, eased care; rest, brought complaint to bed:
All night the wary duke devising laid
How that high wall should best be battered,
How his strong engines he might aptly frame,
And whence get timber fit to build the same.
LXXII
Up with the lark the sorrowful duke arose,
A mourner chief at Dudon's burial,
Of cypress sad a pile his friends compose
Under a hill o'ergrown with cedars tall,
Beside the hearse a fruitful palm-tree grows,
Ennobled since by this great funeral,
Where Dudon's corpse they softly laid in ground,
The priest sung hymns, the soldiers wept around.
LXXIII
Among the boughs, they here and there bestow
Ensigns and arms, as witness of his praise,
Which he from Pagan lords, that did them owe,
Had won in prosperous fights and happy frays:
His shield they fixed on the hole below,
And there this distich under-writ, which says,
"This palm with stretched arms, doth overspread
The champion Dudon's glorious carcase dead."
LXXIV
This work performed with advisement good,
Godfrey his carpenters, and men of skill
In all the camp, sent to an aged wood,
With convoy meet to guard them safe from ill.
Within a valley deep this forest stood,
To Christian eyes unseen, unknown, until
A Syrian told the duke, who thither sent
Those chosen workmen that for timber went.
LXXV
And now the axe raged in the forest wild,
The echo sighed in the groves unseen,
The weeping nymphs fled from their bowers exiled,
Down fell the shady tops of shaking treen,
Down came the sacred palms, the ashes wild,
The funeral cypress, holly ever green,
The weeping fir, thick beech, and sailing pine,
The married elm fell with his fruitful vine.
LXXVI
The shooter grew, the broad-leaved sycamore,
The barren plantain, and the walnut sound,
The myrrh, that her foul sin doth still deplore,
The alder owner of all waterish ground,
Sweet juniper, whose shadow hurteth sore,
Proud cedar, oak, the king of forests crowned;
Thus fell the trees, with noise the deserts roar;
The beasts, their caves, the birds, their nests forlore.
Last updated January 14, 2019