by Ada Limón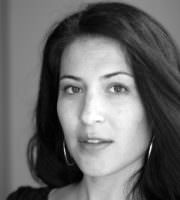 I wish I could write to you from underwater, the warm bath covering my ears— one of which has three marks in the exact shape of a triangle, my own atmosphere's asterism.
Last night, the fire-engine sirens were so loud they drowned out even the constant bluster of the inbound freight trains. Did I tell you, the R. J. Corman Railroad runs five hundred feet from us?
Before everything shifted and I aged into this body, my grandparents lived above San Timoteo Canyon, where the Southern Pacific Railroad roared each scorching California summer day. I'd watch for the trains, howling as they came.
Manuel is in Chicago today, and we've both admitted that we're travelling with our passports now. Reports of ICE raids and both of our bloods are requiring new medication.
I wish we could go back to the windy dock, drinking pink wine and talking smack. Now it's gray and pitchfork.
The supermarket here is full of grass seed, like spring might actually come, but I don't know. And you?
I heard from a friend that you're still working on saving words. All I've been working on is napping, and maybe being kinder to others, to myself.
Just this morning, I saw seven cardinals brash and bold as sin in a leafless tree. I let them be for a long while before I shook the air and screwed it all up just by being alive, too.
Am I braver than those birds?
Do you ever wonder what the trains carry? Aluminum ingots, plastic, brick, corn syrup, limestone, fury, alcohol, joy.
All the world is moving, even sand from one shore to another is being shuttled. I live my life half afraid, and half shouting at the trains when they thunder by. This letter to you is both.
Last updated October 24, 2022