by Adah Isaacs Menken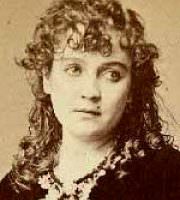 "And they shall be my people, and I will be their God."
-Jeremiah xxxii. 38.
I
Hear, O Israel! and plead my cause against the ungodly nation!
'Midst the terrible conflict of Love and Peace, I departed from thee, my people, and spread my tent of many colors in the land of Egypt.
In their crimson and fine linen I girded my white form.
Sapphires gleamed their purple light from out the darkness of my hair.
The silver folds of their temple foot-cloth was spread beneath my sandaled feet.
Thus I slumbered through the daylight.
Slumbered 'midst the vapor of sin,
Slumbered 'midst the battle of din,
Wakened 'midst the strangle of breath,
Wakened 'midst the struggle of death!
II
Hear, O Israel! my people-to thy goodly tents do I return with unstained hands.
Like as the harts for the water-brooks, in thirst, do pant and bray, so pants and cries my longing soul for the house of Jacob.
My tears have unto me been meat, both in night and day:
And the crimson and fine linen moulders in the dark tents of the enemy.
With bare feet and covered head do I return to thee, O Israel!
With sackcloth have I bound the hem of my garments.
With olive leaves have I trimmed the border of my bosom.
The breaking waves did pass o'er me; yea, were mighty in their strength-
Strength of the foe's oppression.
My soul was cast out upon the waters of Sin: but it has come back to me.
My transgressions have vanished like a cloud.
The curse of Balaam hath turned to a blessing;
And the doors of Jacob turn not on their hinges against me.
Rise up, O Israel! for it is I who passed through the fiery furnace seven times, and come forth unscathed, to redeem thee from slavery, O my nation! and lead thee back to God.
III
Brothers mine, fling out your white banners over this Red Sea of wrath!
Hear ye not the Death-cry of a thousand burning, bleeding wrongs?
Against the enemy lift thy sword of fire, even thou, O Israel! whose prophet I am.
For I, of all thy race, with these tear-blinded eyes, still see the watch-fire leaping up its blood-red flame from the ramparts of our Jerusalem!
And my heart alone beats and palpitates, rises and falls with the glimmering and the gleaming of the golden beacon flame, by whose light I shall lead thee, O my people! back to freedom!
Give me time-oh give me time to strike from you brows the shadow-crowns of Wrong!
On the anvil of my heart will I rend the chains that bind ye.
Look upon me-oh look upon me, as I turn from the world-from love, and passion, to lead thee, thou Chosen of God, back to the pastures of Right and Life!
Fear me not; for the best blood that heaves this heart now runs for thee, thou Lonely Nation!
Why wear ye not the crown of eternal royalty, that God set down upon your heads?
Back, tyrants of the red hands!
Slouch back to your ungodly tents, and hide the Cainbrand on your foreheads!
Life for life, blood for blood, is the lesson ye teach us.
We, the Children of Israel, will not creep to the kennel graves ye are scooping out with iron hands, like scourged hounds!
Israel! rouse ye from the slumber of ages, and, though Hell welters at your feet, carve a road through these tyrants!
The promised dawn-light is here; and God-O the God of our nation is calling!
Press on-press on!
IV
Ye, who are kings, princes, priests, and prophets. Ye men of Judah and bards of Jerusalem, hearken unto my voice, and I will speak thy name, O Israel!
Fear not; for God hath at last let loose His thinkers, and their voices now tremble in the mighty depths of this old world!
Rise up from thy blood-stained pillows!
Cast down to dust the hideous, galling chains that bind thy strong hearts down to silence!
Wear ye the badge of slaves?
See ye not the watch-fire?
Look aloft, from thy wilderness of thought!
Come forth with the signs and wonders, and thy strong hands, and stretched-out arms, even as thou didst from Egypt!
Courage, courage! trampled hearts!
Look at these pale hands and frail arms, that have rent asunder the welded chains that an army of the Philistines bound about me!
But the God of all Israel set His seal of fire on my breast, and lighted up, with inspiration, the soul that pants for the Freedom of a nation!
With eager wings she fluttered above the blood-stained bayonet-points of the millions, who are trampling upon the strong throats of God's people.
Rise up, brave hearts!
The sentry cries: "All's well!" from Hope's tower!
Fling out your banners of Right!
The watch fire grows brighter!
All's well! All's well!
Courage! Courage!
The Lord of Hosts is in the field,
The God of Jacob is our shield!
Last updated July 05, 2015