by Adah Isaacs Menken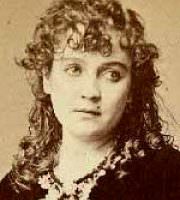 I
O soldiers, soldiers, get ye back, I pray!
Hush out of sound your trampings so near his lowly head!
Hush back the echoes of your footfalls to the muffling distance!
O soldiers, wake not my sleeping love!
Get ye back, I pray!
To-morrow will he wake, and lead ye on as bravely as before.
To-morrow will he lift the blazing sword above a crimson flood of victory.
Get ye back and wait.
He is weary, and would sleep.
II
Soft, soft, he sleepeth well.
Why stand ye all so stern and sad?
So garmented in the dust and blood of battle?
Why linger on the field to-day? See how the dark locks hang in bloody tangles about your glaring eyes!
Get ye to your silent tents, I pray!
See ye not your soldier-chief sleeps safe and well?
What say ye?
"Dead!"
O blind, blind soldiers! Should I not know?
Have I not watched him all the long, long battle?
On this cold and sunless plain my tottering feet struck the pathway to my soldier.
My loving arms have clasped him from the black, hungry jaws of Death.
With the neglected sunshine of my hair I shielded his pale face from the cannon-glare.
On my breast, as on a wave of heaven-light, have I lulled him to the soft beauty of dreams.
He has been yours to-day; he is mine now.
He has fought bravely, and would sleep.
I know, I know.
III
O soldiers, soldiers, take him not hence!
Do not press tears back into your pitiful eyes, and say: "His soul hath found its rest."
Why lean ye on your blood-stained spears, and point to that dark wound upon his throat?
I can kiss its pain and terror out.
Leave him, I pray ye!
He will wake to-morrow, and cheer ye in your tents at dawn.
And ye shall see him smile on her who soothes his weary head to sleep through this long night.
It was I who found him at the battle's dreadful close.
Weary and wounded, he sank to rest upon the field.
Murmuring out his tender voice, he called my name, and whispered of our love, and its sweet eternity.
'Mid brooding love and clinging kisses, his tender eyes let down their silken barriers to the day.
Their pale roofs close out the defeat, and in my arms he finds the joy of glorious victory.
IV
O soldiers, leave him to me!
The morning, bridegroomed by the sun, cannot look down to the midnight for comfort.
In the thick front of battle I claimed what is mine own.
I saw the Grim Foe open wide his red-leafed book, but he wrote not therein the name of my brave love.
Life hath no chance that he cannot combat with a single hand.
Now he wearies from the struggling grace of a brave surrendering.
He sleeps, he sleeps.
V
Go, soldiers, go!
I pray ye wake him not.
I have kissed his pale, cold mouth, and staunched the crimson wound upon his throat.
The mournful moon has seen my silent watch above his lonely bed.
Her pitying eyes reproached me not.
How durst yours?
Go, soldiers, go!
VI
I charge ye by the love ye bear your sleeping chieftain, wake him not!
To-morrow he will wake, eager to wheel into battle-line.
To-morrow he will rise, and mount the steed he loveth well, and lead ye cheerily on to the attack!
To-morrow his voice will ring its Hope along your tramping troops!
But oh! wait, wait!
He is weary, and must sleep!
Go, soldiers, go!
Last updated July 05, 2015