by Ahmos Zu-Bolton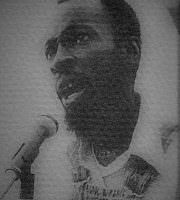 We define:
Livewire Davis. The one
with the million-dollar jump-shot.
Livewire as bebop star:
torn between his body's genius
for fast breaks
and a questionmark called rage. Stumbling
thru a lifetime of all-star games
(he never hit the winning points
but was always a frontpager.
Livewire's days
were lawless theater
(except for the 8 o'clock class,
except for the poetry of bullshitting
with the women,
except for the ritual of practice:
run jump "shoot their eyes out"
defense
defense
except for the terrible puzzle of books
he was free.
Last updated November 13, 2022