by Albert Pike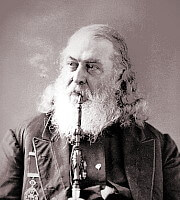 Thy anguished bosom heaves no sigh,
So well it can its woes control;
Yet, gentle angel! how thine eye,
With its calm sadness, racks my soul.
I brought thee from thy happy home,
To wed with want and wretchedness;
And dost thou to my bosom come,
And him who made thee wretched bless?
In all but love, how poor we are!
Yet thou wast cradled, dear, in ease;
And Iā€"forgive me gentle star!
And bless me with one smile of peace!
And thou art dying!ā€"well, too well
I see death's mark upon thy brow;
Thine eyes the fatal message tell,
That I must lose thee, even now,
Dear love! reproach me not! Too hard
Are now my own stern thoughts to bear;
That I thy happiness have marred,
And dimmed the jewel that I wear.
Come, sing to me, as thou didst sing,
Ere life had grown all grief and pain;
Till sorrow to me cease to cling,
And I become a boy again.
Perhaps we may be happier,
And yet some days of gladness see;
If not,ā€"ah,ā€"death were welcomer
Than one reproachful look from thee.
Last updated May 12, 2023