by Alfred Austin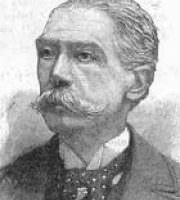 Now in the woodlands from the creaking boughs
The last sere leaves are loosened and unstrung,
Where once the tender honeysuckle clung,
And the fond mavis fluted to his spouse.
Already dreaming of her winter drowse,
And brooding dimly on her unborn young,
The dormouse rakes the beechmast, and among
The matted roots the moldwarp paws and ploughs.
Over the furrows brown and pastures grey
The melancholy plovers flap and 'plain;
And, along shivering pool and sodden lane,
As lower droop the lids of dying day,
Like to a disembodied soul in pain,
The homeless wind goes wailing all the way.
Last updated January 14, 2019