by Alfred Billings Street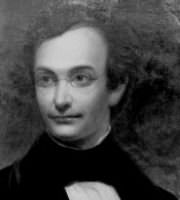 'T WAS May! the Spring with magic bloom
Leaped up from Winter's frozen tomb.
Day lit the river's icy mail;
The bland warm rain at evening sank;
Ice fragments dashed in midnight's gale;
The moose at morn the ripples drank.
The yacht, that stood with naked mast
In the locked shallows motionless
When sunset fell, went curtsying past
As breathed the morning's light caress.
The woodman, in the forest deep,
At sunrise heard with gladdening thrill,
Where yester-eve was gloomy sleep,
The brown rossignol's carol shrill;
Where yester-eve the snowbank spread
The hemlock's twisted roots between,
He saw the coltsfoot's golden head
Rising from mosses plump and green;
Whilst all around were budding trees,
And mellow sweetness filled the breeze.
A few days passed along, and brought
More changes as by magic wrought.
With plumes were tipped the beechen sprays;
The birch long dangling tassels showed;
The oak still bare, but in a blaze
Of gorgeous red the maple glowed;
With clusters of the purest white
Cherry and shadbush charmed the sight
Like spots of snow the boughs among;
And showers of strawberry blossoms made
Rich carpets in each field and glade
Where day its kindliest glances flung.
And air too hailed Spring's joyous sway;
The bluebird warbled clear and sweet;
Then came the wren with carols gay,
The 'customed roof and porch to greet;
The mockbird showed its varied skill;
At evening moaned the whippoorwill.
Type of the Spring from Winter's gloom!
The butterfly new being found;
Whilst round the pink may-apple's bloom
Gave myriad drinking bees their sound.
Great fleeting clouds the pigeons made;
When near her brood the hunter strayed
With trailing limp the partridge stirred;
Whilst a quick feathered spangle shot,
Rapid as thought from spot to spot,
Showing the fairy humming-bird.
Last updated September 26, 2022