by Amanda Gorman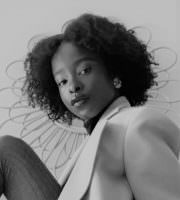 How would we read the Harvard arms,
If we took another look?
The letters of veritas,
Tossed across
Three open books,
Like eight simple seeds?
I'd saywe can read this creed
Not just in the words, but in the deeds
Of the man we celebrate today.
A man of exemplary mind,
Who is also exceptionally kind.
Yet before these accolades and degrees,
He grew up in Pontiac, Michigan.
The son of two refugees
who immigrated to America:
Two fighters who came here looking shoreward,
Two survivors dreaming higher, looking forward
At the new opportunities their son could seize.
It's apparent President Bacow
Got the best from both his parents;
Like his mother, he's characteristically optimistic.
Like his father, he speaks with integrity, sincerity, clarity;
He is both outstandingly honest
And marvelously modest.
Being raised by parents who'd witnessed oppression's worst
Is what makes President Bacow so well-versed
In the American dream. It speaks to his personality,
But also the fact that this dream is his reality.
I only needed to speak with him for two minutes
Before I knew why he is in it:
Tikkun olam, to repair the world.
He knows that to repair it is to share its
Freedoms and dreams, especially at a university
Dedicated to excellence through diligence, daring and diversity.
President Bacow knows Harvard is not a place:
It is an idea, which also can be a face
Of higher education, where every day we make
The unknown perceivable and the impossible achievable,
We know if we are to be a school
With a purpose we teach for, we must ask more
of ourselves and our world.
Because great ideas don't just unfurl;
They must be sought out,
Not just thought out,
But brought out
Of the best of ourselves. Because, in fact,
Veritas is to act.
It's this commitment in everything we do
That makes our work here
Both tremendous and true.
Our motto far heard at Harvard,
Pushing us forever forward,
Toward the pursuit of truth at its most
Transformative and tenacious, audaciously
Seeking it not just in Widener's shelves
But also inside our wiser selves.
If you ask President Bacow's wife of 43 years, Adele
You'll hear her tell that he's always ready for the next adventure,
That it's not simply a gesture
When he says: "Call me Larry".
He understands we are all comrades who carry
The very weight of getting to create the world here,
This extraordinary gathering of legendary luminaries and visionaries.
President Bacow knows now is not the time to back out
The present is to act out of purpose, allow our service
To serve an us far greater than the yard.
The question is hard,
But how should we read our school's creed?
When the mind is freed, when we take another look,
We see that the books are open,
The silence of a blank page broken
By truth being shared, written, spoken.
Meaning we can both learn new truths as we are teaching,
We can give answers as we are reaching for questions
Which suggests veritas is not in the knowing, but in the growing
Into both a truth seeker and truth speaker,
Meaning we can make mountains as we run,
As long as we climb towards veritas as one
Harvard, meaning we can shape the sea as we sail
And the only way to fail is to not learn from the journey,
And the only way to triumph is to share what we know to be true.
And so I ask you to join me as we witness and welcome
The man who reminds of us of the veritas we can all find,
The man who loves Harvard, but whose love is not blind:,
The honest, the very brave and of exemplary mind,
The man whose truth will change our community, our country,
And our kind:
Lawrence S. Bacow, the 29th President of Harvard University.
Last updated September 26, 2022