by Anna Yin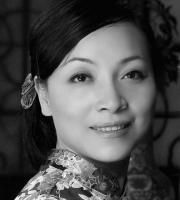 I fall in love with you, Moon,
seeing you step back like a timid artist.
Listening to the night,
you come out, a pail lifted.
Moon, they are gone.
They left you watching over the river.
How many years since?
And you watch the small village
becoming a floating island in the dark.
Among rows of windows,
the night flows, and I wide awake.
How much I want to imitate Li Po,
dancing with his white sleeves,
a hum from his burning heart,
night after night inviting you for a drink!
The wine never drained,
yet he drowned in the silver river.
Moon, lift your bucket,
come out once again.
I won't make a sound.
From:
Wings Toward Sunlight, (Mosaic Press 2011)
Last updated October 24, 2018