by Anne Sexton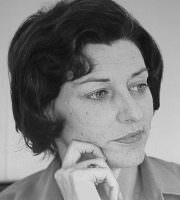 Before it came inside
I had watched it from my kitchen window,
watched it swell like a new balloon,
watched it slump and then divide,
like something I know I know -
a broken pear or two halves of the moon,
or round white plates floating nowhere
or fat hands waving in the summer air
until they fold together like a fist or a knee.
After that it came to my door. Now it lives here.
And of course: it is a soft sound, soft as a seal's ear
that was caught between a shape and a shape and then returned to me.
You know how parents call
from sweet beaches anywhere, come in come in,
and how you sank under water to put out
the sound, or how one of them touched in the hall
at night: the rustle and the skin
you couldn't know, but heard, the stout
slap of tides and the dog snoring. It's here
now, caught back from time in my adult year -
the image we did forget: the cranking shells on our feet
or the swing of the spoon in soup. It is real
as splinters stuck in your ear. The noise we steal
is half a bell. And outside cars whisk by on the suburban street
and are there and are true.
What else is this, this intricate shape of air?
calling me, calling you.
Last updated January 14, 2019