by Arthur Stringer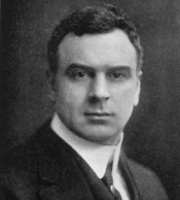 Through the noise av the crowded sthreet
The thrappin's av sable crept;
Where the light av the sun lay sweet
The black-clothed mourners stept.
And him — who'd feared at the sight
Av coffin and hearse and sthone,
He'll shleep widout fear this night
In the churchyard wid his own!
But och, at the sight av his hearse,
For a breath, how we all lay cold
In the gloom and the clutch and the curse
Av Death and His drippin' mould!
For a minute our ould backs bowed
Wid the weight av his graveyard clay:
Then the feelin' passed off like a cloud
And we wakened and went our way.
Yet faix, now, I'm wonderin' if Death
Deep under the loam and the lorn
Is throubled, in turn, for a breath,
When he's toldt av a child bein' born?
Last updated January 14, 2019