by Arthur Stringer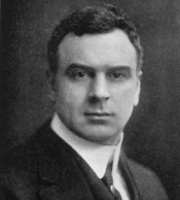 Often in the night-time I can hear thim callin' me,
Callin', callin' shweeter than a woman to her love,
In acrosst the city wid its sthreets av brick and stone,
Wid its roarin' wheels below and thrailin' shmoke above;
Through the crowded places I can shmell the open Sea
And I hear her sirens callin', callin' for their own!
I can wake and hear thim boomin' thro' the harbor rain,
Hear thim thro' the river-fog where yellow lantherns burn;
At the break av mornin' I can hear thim growl and cough,
Till I see the bone-white deck and shmokin' funnel plain,
Till I see the shlappin', lappin' harbor-wather churn
Round the rusty side-plates and the lighters crowdin' off!
Faith, I know then I must go and take the Endless Thrail,
For the shtreets become a throuble and all life becomes a fret
And the city seems a prison built av sthone and stheel—
But there's manhood in the facin', racin' av a gale
Wid the dippin', drippin' hawse-holes and the decks a-reel!
For the Sea is like a woman that you'll ne'er forget,
And she's callin' thro' the night-time, callin' thro' the dawn—
And I'm goin' to know her last kiss before me life is gone!
Last updated September 07, 2017