by Attila Jozsef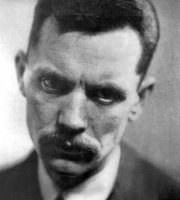 Love me wildly, to distraction,
scare away my huge affliction,
in the cage of an abstraction,
I, an ape, jump up and down,
bare my teeth in malediction,
for I have no faith or fiction,
in the terror of His frown.
Mortal, do you hear my singing,
or mere nature's echoes ringing?
Hug me, don't just stare unseeing
as the sharpened knife comes down--
there's no guardian that's undying
who will hear my song and sighing:
in the terror of His frown.
As a raft upon a river,
Slovak raftman, whosoever,
so the human race forever
dumb with pain, goes drifting down--
but I scream in vain endeavour:
love me: I'll be good, I shiver
in the terror of His frown.
Last updated January 14, 2019