by Atul Chandra Sarkar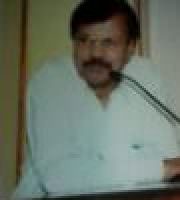 Aromatic or stinky folds,
Customary is the game.
On velvety linen or dirty sheets,
Love is all the same.
Freeze the event in your mind,
In a tale or poetry,
Canvas it or sculpt it,
Choreograph, song or melody.
Down earth, love is need,
A primal instinct ready to claw,
The inevitable event of seclusion,
When hands become the paw.
The passion in blood corpuscles,
Gushes in each nerve and vein,
The heart pounds, the mouth hounds,
The universal end to attain.
Dolphins catapulting,
Sharks scathing the ocean breast,
Bees and dragonflies in air,
Eagles soaring highest,
All make love without any care,
Unlike us who wish to bare,
But fear to dare, as if it's rare,
And grudge it unfair.
Down earth, love is body-calling,
The torrid urge to complement,
The frenzied surge for fulfillment;
Fervent nostrils twitching for odor,
Tingling fingers furtively probing,
Questing hands feeling the mix
Of moisture and perspiration,
The throbbing ears listening
To the rhythm of respiration.
No threads of color, caste, creed attached,
From the nearest ones totally detached,
Just peering into the other's eyes,
For one glimpse of paradise.
Truly down earth, love is nothing but,
The super camouflage of impropriety,
Ingeniously showcased in sunlight,
As pristine Divinity.
From:
ATUL CHANDRA SARKAR
Copyright ©:
atul chandra sarkar
Last updated July 27, 2015