by Atul Chandra Sarkar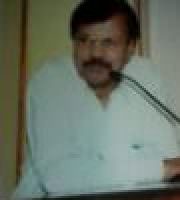 I close my eyes to relax,
When suddenly paper airplanes,
Flood my inward sky;
The melange of the class-room,
Throws open the vista of my alumni;
I hear the class teacher scream,
As she thrashes the desk
With her slender cane that swooshes
Fear in innocent minds,
Voices sink in the silence
Of a lecture of do's and don'ts,
The school bell rings; the applause
Of liberty fills the environment;
Nudged, pushed and overtaken,
I scamper down the stairs,
To rush home, only to find
That it's pouring heavily,
The rickshaw puller isn't in sight,
I guess he might be sheltering,
Under some tree or else peddling
Hooded in a torn polythene bag,
Towards school to reach me;
In any case, I have to wait for him,
I pull out a page from my rough-copy,
Carefully fold it into a boat,
Then rush to the gushing drain,
Undeterred by hail-storm,
I clap as I see my paper boat sail,
Down the gushing, rainy stream;
No sooner cursing the heartless stone
That makes a Titanic of it,
The rainwater fills it to the brim,
My boat sinks; I am back home,
Mom rubs my wet hair dry,
Puts the first morsel in my mouth,
I smile at her, she smiles back,
Inanely I stare straight
At the vacant canvas,
I cannot hear the teacher shout,
I cannot hear the school bell peal,
I cannot see the paper airplanes,
I cannot see the boat I made,
I cannot see the rickshaw puller,
I cannot see either of my parents;
Where have all of them gone?
Where has my journey brought me?
Where am I going from here?
I wipe off the vapour from my lenses,
I peer out of the window,
The winter branches sport
Blushing, light green, baby leaves!
From:
Atul Chandra Sarkar
Copyright ©:
atulchandrasarkar
Last updated March 03, 2015