by Atul Chandra Sarkar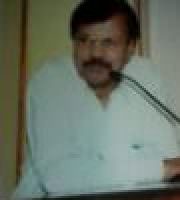 Sparrows used to be
An indispensable part of us;
My childhood patiently watched them
Wrestle one upon the other,
Till they lost a couple of feathers
Unmindful of who topped the podium;
Then a couple of them
Would pick up the feathers
Of losers and the victor alike,
To make a cozy home:
Along with twigs, sprigs, cotton, trash
And human hair pulled and rolled
From unknown combs;
Then one day on finding
One of the couple go miss,
I would make a frantic search;
Look up at ledges, holes, sky-lets;
Until I could spot someone peeping at me
From a remote cornice;
My pleasure knew no bounds
At my successful policing;
Thereafter I would be alert
Whenever they'd scream at the sight
Of a stealthy mouse, cat or a monkey
And hush them away;
No sooner a day would come
When I could see open beaks squeal
For grub, more grub, more,,,,;
Arousing the urge in ravenous parents
For a relentless search to find something
Or the other to feed them:
Beak in beak, strengthening the weak;
Until they grew up,
Strong, Fluffy, Cute;
Where after would begin flying sessions:
From nest to ledge;
From ledge to a neighbour's roof;
From neighbour's roof to clothes-hanging-ropes;
From one electric wire to another;
From balcony to roof; from roof to sky;
From sky to freedom!
I too wished, I could fly;
But then, I would notice that of the two novices
Only one returned to the opposite balcony;
Where did the other go, where? Where?
No one had the answer
'Coz hardly anyone had watched
The serial so attentively as I did;
Years after, I am again
On a look out for sparrows:
Where are they amidst concrete woods;
Where are they in receding rural greens;
Away from a, 'no time to watch' generation.
Nevertheless, I continued my search:
Until I spotted one recently
In the drawing room of a friend,
Who told me that his daughter had painted
A sparrow in oil;
I watched it gawk: a vision-less, mute look
Through a fancy glass-frame,
Without a flutter,
Without a mutter,
Without a chirp!
Without a……!
From:
ATUL CHANDRA SARKAR
Copyright ©:
atul chandra sarkar
Last updated November 13, 2014