by Atul Chandra Sarkar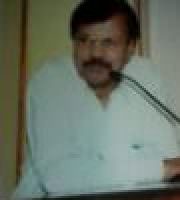 (Remembering Mom on her 24th Death Anniversary today)
A nap in Mom's lap,
Could there be a couch more cozy?
To listen to a fairy tale,
Watch her cheeks turn rosy;
Not a pillow, not a quilt,
Not a warmer required to warm,
Protection from chill and blaze,
Protection from hailstorm.
Cuddling, hugging relentlessly,
Restless at the slightest distress,
Cooling a hurt with a tender kiss,
Wiping off pain with a warm caress.
Nappies wet or terribly stinky,
Rashes, fever, or vomited milk-feed,
Nothing ever irritates her who is,
Incarnated to fulfill every need.
A mom can be poor, but not her lap,
A priceless cradle none can buy,
A hide, a shelter, a playground,
For which siblings vie and cry.
An amulet-pendant closest to my heart,
My Mom, my first love, I cannot part,
Before I saw the sun, moon and stars,
She felt the beats of my heart.
Wonder why mothers descend,
Without wings from Paradise,
Why so much pain and agony borne,
To see a sparkle in her baby's eyes.
In the last lap of life,
When sunset surrenders to night,
Mom reappears to console,
To ease the soul for its next flight.
From:
Atul Chandra Sarkar
Copyright ©:
atul chandra sarkar
Last updated April 14, 2015