by Atul Chandra Sarkar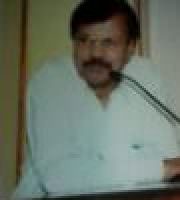 I did dare, I did dare,
Over here, over there,
Almost everywhere;
Over land, water, marsh,
Through nights,
Dark and harsh,
In search of you;
Thru leaves and dew,
I walked, I flew.
I took to darkness
Only for you,
I flashed my lantern
In yellow-green hue,
Not like a headlight
To show myself the way,
I glint my backlight
Lest you went astray.
Without your love
Life has become bitter,
The cool night scalds,
And sad the patter-pitter
Of the reluctant drizzle
On the moist leaves litter;
Come, burning as I am
In the heat of my glitter.
Come dear soon, lest the moon
My light does adulterate,
Come before the human race
Our lives stifle and suffocate;
Come before any naughty kid
Puts me in a glass jar
And overnight my tormented soul
Quits for stars afar.
From:
Atul Chandra Sarkar
Copyright ©:
atulchandrasarkar
Last updated January 11, 2015