by Atul Chandra Sarkar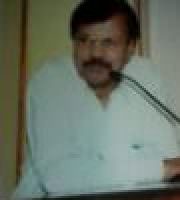 The world lives,
As long as I do,
It perishes the moment,
I am out of view!
Death is a guest,
There's no time for its visit,
No door can stop its entry,
Wherever life does exist;
Soar beyond the zenith,
Or into the nadir dive,
Death is a certainty,
For anything alive!
It can come in a pin,
A virus, bomb or gun,
In a glass of wine,
In a joke or fun;
When it comes naturally,
Death is an incident,
When it comes abruptly,
Death is an accident!
Celebrate life as it goes by,
Who knows when you shall die,
Let's share love and live in peace,
Let's be honest and never lie;
Sip the very last drop,
Before the droop of eye-lashes,
Before the soul flees and the body,
Ends up life in scattered fly-ashes.
From:
Atul Chandra Sarkar
Copyright ©:
atul chandra sarkar
Last updated June 23, 2016