by Atul Chandra Sarkar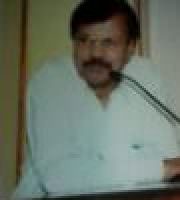 Each of us is an alphabet,
a shape, a form, an identity,
a sound, a percept, a concept,
a meaning unto ourselves.
At times alone,
at times paired,
more often in several groups,
acquiring more than one meaning,
more often changing meanings
with the passage of time
and change of place.
As we move down the pages,
in the classic book of Time,
in singles, in pairs, in groups,
we encounter events:
incidents and accidents akin to
commas, colons, semi-colons,
marks of interrogation,
marks of exclamation,
marks of quotation.
Cautiously moving from
one full stop to another,
we realize that what we deem,
to be an end,
is really not an end,
but,
the beginning of a beginning.
The good, the bad, the ugly,
all come by turns,
as we recollect in quotes,
what someone had once said;
we wonder in exclamations;
in interrogations we ask;
in commas and colons
we pause to contemplate;
in hyphens we link with our beloveds;
in dots we search the missing.
The course of life changes:
slowly, steadily, erratically,
sublimely, vulgarly,
rumbling, tumbling, scattering
rising, falling,
shattering at times,
blushing amidst gardens,
at times crying in tearing desperation.
Pages keep turning
until a chapter ends;
chapters keep turning
until a book ends.
Till the book attracts,
it changes hands,
it may also travel to distant lands,
to be dumped at last
in some corner,
to become the feast of worms,
devouring alphabets:
in singles, in pairs, in groups.......
We are alphabets
starting as 'A'
changing forms
till we end as 'Z'
or shall I say, dead?
or to start a new journey ahead?
From:
ATUL CHANDRA SARKAR
Copyright ©:
stul chandra sarkar
Last updated November 16, 2014