by Bliss Carman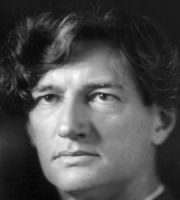 IT is the mellow season
When gold enchantment lies
On stream and road and woodland,
To gladden soul's surmise.
The little old grey homesteads
Are quiet as can be,
Among their stone-fenced orchards
And meadows by the sea.
Here lived the men who gave us
The purpose that holds fast,
The dream that nerves endeavor,
The glory that shall last.
Here strong as pines in winter
And free as ripening corn,
Our faith in fair ideals -
Our fathers' faiths -was born.
Here shone through simple living,
With pride in word and deed,
And consciences of granite,
The old New England breed.
With souls assayed by hardship,
Illumined, self-possessed,
Strongly they lived, and left us
Their passion for the best.
On trails that cut the sunset,
Above the last divide,
The vision has not vanished,
The whisper has not died.
From Shasta to Katahdin,
Blue Hill to Smoky Ridge,
Still stand the just convictions
That stood at Concord Bridge.
Beneath our gilded revel,
Behind our ardent boast,
Above our young impatience
To value least and most,
Sure as the swinging compass
To serve at touch of need,
Square to the world's four corners,
Abides their fearless creed.
Still fired with wonder-working,
Intolerant of peers,
Impetuous and sanguine
After the hundred years,
In likeness to our fathers,
Beyond the safe-marked scope
Of reason and decorum,
We jest and dare and hope.
Thank we the Blood that bred us,
Clear fibre and clean strain -
The Truth which straightly sighted
Lets no one swerve again.
And may almighty Goodness
Give us the will to be
As sweet as upland pastures,
And strong as wind at sea.
Last updated January 14, 2019