by Boris Pasternak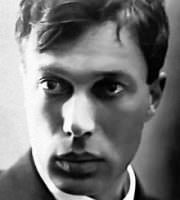 Ah, how I love it in these first few days,
Fresh from the forest and out of the snow,
Awkwardness obvious still in every bough,
When every silver thread lazily sways
And every cone begins slowly to glow
In candlelight-and the white sheet below
Hides its sore stump from our eyes.
It will not bat an eye if you heap gold
And jewels on it-this shyest of fays
In blue enamel and tinfoil enfolded
Creeps in your heart of hearts-and there it stays.
Ah, how I love it all in these first days,
All golden finery and silver shades!
All in the making-stars, flags, lanterns, flares,
There are no chocolates yet in bonbonnieres.
Even the candles are no candles-they
Look more like dull sticks of makeup by day.
This is an actress still lighting stage fright
In the tumult of her benefit night.
Ah, how I love her on this opening day,
Flushed in the coulisses before the play!
Apples to appletrees, and kicks to firtrees.
Only not this one-no kicks for the beauty.
She has a different purpose and duty.
She's the select one, receiver of favours.
Her evening party will go on forever.
Others may fear proverb s-this one does not.
Her fate is only a few firtrees' lot.
Golden and fiery, she will soar high,
Like an old prophet ascending the sky.
Ah, how I love it all in these first days,
When all the world chats and fusses and plays!
Last updated January 14, 2019