by Charlotte Perkins Gilman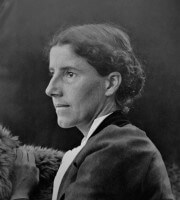 You women of today who fear so much
The women of the future, showing how
The dangers of her course are such and such–
What are you now?
Mothers and Wives and Housekeepers, forsooth!
Great names, you cry, full scope to rule and please,
Room for wise age and energetic youth!–
But are you these?
Housekeepers? Do you then, like those of yore,
Keep house with power and pride, with grace and ease?
No, you keep servants only! What is more–
You don't keep these!
Wives, say you? Wives! Blessed indeed are they
Who hold of love the everlasting keys,
Keeping your husbands' hearts! Alas the day!
You don't keep these!
And mothers? Pitying Heaven! Mark the cry
From cradle death-beds! Mothers on their knees!
Why, half the children born, as children, die!
You don't keep these!
And still the wailing babies come and go,
And homes are waste, and husband's hearts fly far;
There is no hope until you dare to know
The thing you are!
Last updated April 02, 2023