by David Yezzi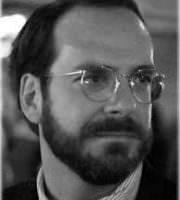 The clouds have caused delays. Flights are on hold.
Coming in from the county, traffic stalls
behind an accident we cannot see.
We know it's there and know it must be bad.
We are absolutely stuck. It makes me angry,
makes me want to find the one whose fault
this is. God damn it, damn it, damn. I'm fine.
Can't remember if I took my Lexapro.
Or maybe it's because I gave up smoking.
I'm investing in my future. It feels good.
But why are all these duplexes abandoned?
Prejudice just means our minds are made up
beforehand. It's not that we're afraid of failure;
we long ago foresaw all this would fail.
The sky seems grayer than it's ever been.
Windowless façades open on thin air.
And now we're finally moving past the wreck.
A van with tinted windows slows enough
to look and know At least it wasn't me,
cruising over a shoal of raw green gems.
Last updated January 14, 2019